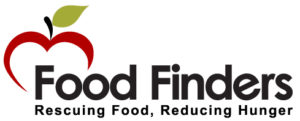 Founded in 1989, Food Finders is a multi-regional food bank and food rescue program headquartered in Signal Hill, CA. Food Finders picks up donated food from hundreds of local grocery stores, bakeries, restaurants and produce markets and distributes it directly to missions, shelters and social service agencies to feed the needy and impoverished. Volunteers and staff drivers pick up and deliver on a same-day basis. On average, Food Finders helps provide enough food for 40,000 meals a day, reducing the amount of food insecurity and food waste prevalent throughout Southern California.
For more information on Food Finders and how you can donate or volunteer, visit www.foodfinders.org.
While food donations are essential for Food Finders' goal of hunger relief, monetary donations help with the purchase of additional food and supplies, along with day-to-day operating and transportation costs. Click here to donate any amount.